Acquire clients for your business
Most companies that start selling on the Internet have to make a decision whether to buy an out-of-the-box application and adapt their existing business model to the available functionalities, or to adapt the e-commerce application to their business in order to use current processes to build a competitive advantage. Sygnisoft helps entrepreneurs to create an application dedicated to specific expectations and requirements. We do not use compromise solutions in our applications, we create them in a way that best suit to the specificity of the industry and the strategic goals of the client. Our e-commerce platforms can be freely integrated with external systems and developed with new functionalities such as B2B, B2C, loyalty programs, consumer clubs, gamification and other applications related to logistics or finance. Dedicated e-commerce solutions are ideal for entrepreneurs who have experience in on-line sales and want to change the temporary platform into a dedicated system that will help them develop even faster and respond to customer expectations and for very specific industry services and products, where the available applications just don't work. Our e-commerce solutions also perfectly meet the needs of innovative startups, where the sales model and customer service process stand out from the market standards, so the solution used must also be "tailored".
Our ecommerce experience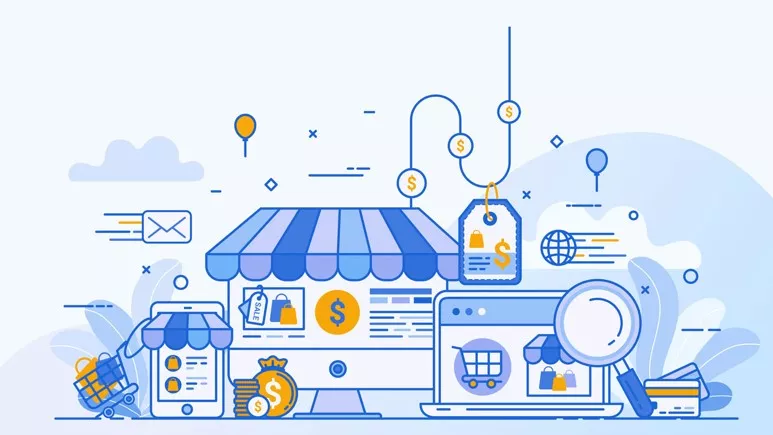 For us, e-commerce is not only a store, but a communication channel with all key actors of the business process (business partners, customers, suppliers). It is also possible to connect functionalities dedicated to many departments of the company in one tool.
Implementation of e-commerce projects for various sectors:
– entertainment industry,
– trading companies,
– production companies,
– distribution companies,
– service companies.
What does the implementation of a dedicated e-commerce system give you?
First of all, adaptation to the needs, improvement of processes, speed of service, reduction of transaction time, competitiveness, multi-faceted communication channel, support for many price lists and product variants, current updating of inventory, development in the direction in which the client wants to develop – wide adaptation and developmental functionalities e.t.c.
Experience in the integration of e-commerce systems with:
– payment systems,
– courier platforms,
– ERP systems (including: Comarch, WAPRO),
– direct and indirect sales channels,
– other systems of the Client.
Why is it worth cooperating with us?
– flexibility and individual approach,
– business partnership,
– consulting at every stage of cooperation,
– know-how of good e-commerce practices,
– a system corresponding to your needs.
15+ years experience
5000 of products